About
TouchPoint Aviation Services, LLC, was founded in November 2012 to bring creative asset management solutions and consulting services to the aircraft parts trading marketplace.  Our commitment is to provide maximum value for our customers. We strive to keep costs to an absolute minimum by leveraging strategic partnerships to maintain an ultra-lean structure.
Our Mission & Culture
TouchPoint Aviation Services is a solutions focused aircraft components trading company serving the global aerospace industry from our locations in Florida and New Jersey with the highest level of integrity.
We remain flexible in our approach to dealing with our airline, MRO and aircraft parts trading business partners. We apply the same philosophy of flexibility and partnership based solutions to everything we do from handling day to day transactions to negotiating long-term contracts with strategic partners.
ASA-100 Accredited Supplier
TouchPoint Aviation Services is an active member of the Aviation Suppliers Association and is an ASA-100 accredited supplier.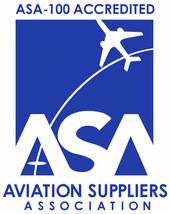 Our Locations
TouchPoint Aviation 
9100 S. Dadeland Blvd., Suite 514,
Miami, FL 33156
TouchPoint Aviation
813 Arnold Ave
Point Pleasant Beach, NJ 08742